Hail season gave us an early surprise this year, and it looks like it's here to stay! For the upcoming 2021 hail season, we wanted to share with you our top hail tools for all you hail techs out there. Some are new, and some are tried and true.
We hope this helps you in your upcoming hail season and allows you to be more efficient and effective in your repairs. Happy pushing friends and don't forget to "Embrace the Crazy"!
John Renstrom's Picks:
The versatility of this tool is unmatched for hail repair. The ability to have a hail rod 3' to 10' in length means that you only need one tool to handle anything from a small car to a big SUV. With a multitude of interchangeable heads and push button lock (so it won't unscrew when side-loaded), this is without a doubt the Swiss Army Knife of the PDR world.
These tools combined with the Tequila Gorilla Grip allow for unparalleled comfort when working in very awkward locations. The handless tool can be set into place then you put the handle on in the exact orientation needed for maximum power and comfort. In a world of aluminum hoods, these are a must-have.
Whether we are talking full sized rods or the XecutioneR set, Dent Reaper tools have a variety of sizes and shapes to get you into the tightest of spots. These hail tools don't compromise on power or precision, helping you push out the meanest of dents. This set of tools are my go-to for fenders and doors.
Daniel Gromm's 2021 Picks
We've got new large doors on vehicles and more aluminum being used on hinged panels. The Tequila Double Shot is suave and super strong with a sharp tip. This tool gives you the strength to go down a large truck aluminum door without compromising on accuracy. With the indexing hub, you can set the handle in the perfect ergonomic place to save the toll on your body.
This is Elim-A-Dent's 3rd version of the best light ever made, and it's a must-have tool for every dent tech. The auto suction cup is a small, strong oval that can fit in between body lines. The lock line arm – Elim-A-Dent's own design – has super strength. It has a light frame with adjustable lenses and a dimmer switch to get the perfect fade and brightness. Their plastic case is practically indestructible with rubber bumpers all the way around, which protects cars from scratches. This light is available in Milwaukee, Dewalt, or Makita 18 V batteries and can last all day on one charge. It truly is the perfect light!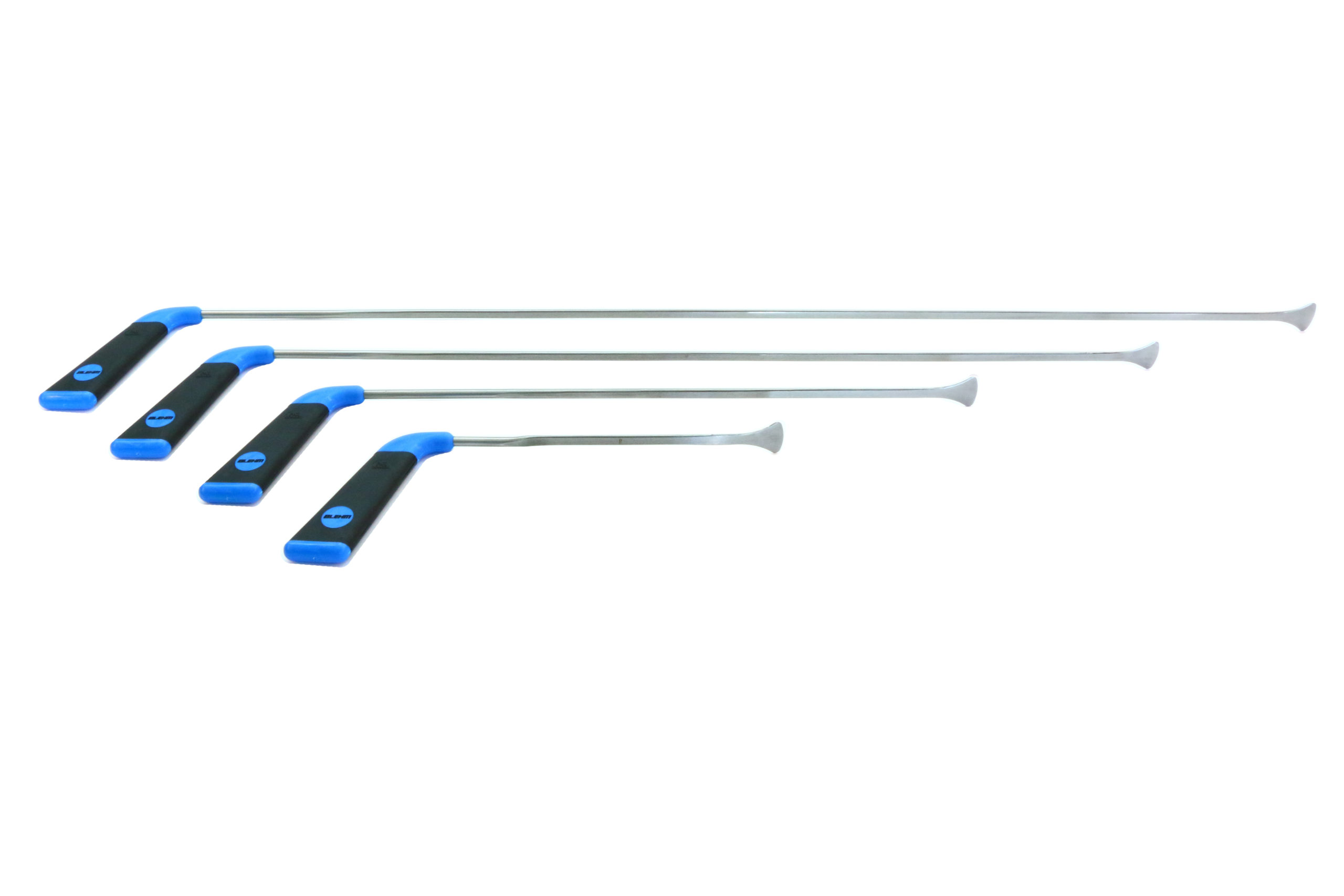 This whale tail set is forged from medium carbon spring steel, and designed for gaining access in tight brace areas. There are 4 tools included.
In my opinion, these are the best whale tails in our industry. All other whale tails are cut out of flat stock material and don't have the same power output as Blehm. These hail tools are strong and also very thin to fit under bracing.
Vince D'alessandro's Top 3 Hail Tools for 2021
These hail tools were suppose to make their debut at 2020 MTE Vegas in September. The pandemic overshadowed their release, and I don't think they got the critical acclaim that they deserve. These tools fall in the same category as flat panel tools, but are unlike their predecessors that come with fixed handles. What makes these Tequila hand tools special is that they come with an indexing tactical hub that can be used in just about any position. If there is any obstruction, you simply adjust the handle to the degree you need to accomplish the repair.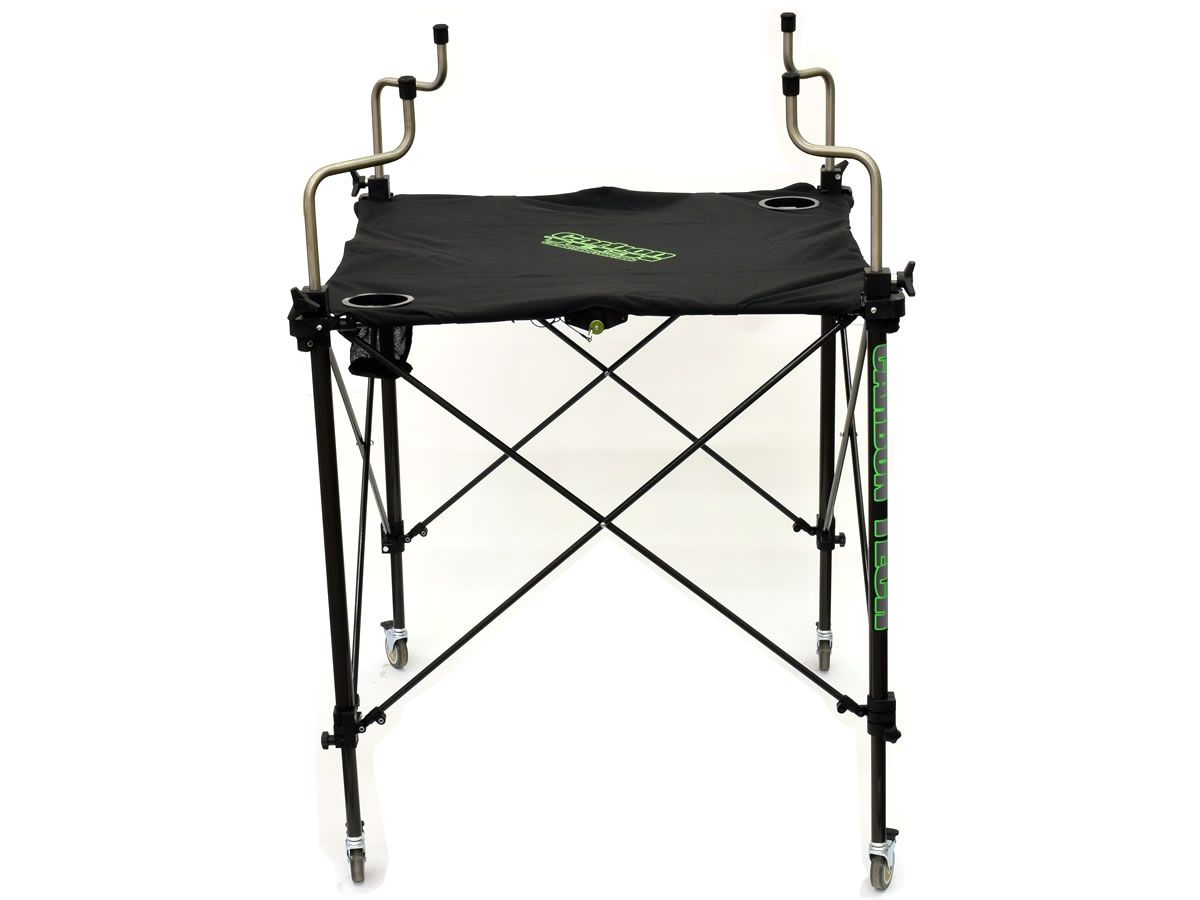 This lightweight hood stand can withstand a beating. Made of carbon fiber posts and high strength nylon webbing, it can stand up to the rigors of daily hail repairs for hoods and trunks. Pair this with clamps by Restless Minds on the posts for a winning combo. Note: The stand tends to be on the lighter side, so be aware on aluminum panels.
This single unit can save your day and even maybe your season. Gone are the days of kicking panels to the body shop for conventional repairs or replacement. This unit can be dialed in to save even the most stretched dents possible. I have personally saved the day on countless panels with this box for oversized damage that would normally have been kicked.
Hudson Tansey's Hail Season Picks
As Glue pulling becomes more and more common, I would be remiss if I didn't recommend the Dead Center Tabs from Keco. There is a learning curve on them since the center of the pulling shaft is thinner than most tabs on the market. But they ensure dead center pulls, hence the name. So, you might break a few your first time around as you learn how to use them, but they become money-makers when you master them. I can't remember the last time I broke a dead center now that I think about it. Grab some and thank me later. Even the smallest dead center, smaller than a pencil eraser, is useful. I use the smallest dead centers on suburban quarter panels that pull way too easy.
Here are two tech tips for these tabs:
If you're glue pulling on aluminum, be sure to pick a dead center tab that is slightly larger than the dent itself. I am surprised by the number of techs who don't know this simple tip.
The next tip is pairing your dead center tabs with a Lift Rite lifter from Precision PDR tools for all horizontal panels. I wish I could explain to you the science behind why it is so effective, but honestly I can't. It might be black magic – it's the only explanation of how precise it's pulls are with dead centers.
15 years ago when I started pushing, I was taught with a knock down and hammer. It was always frustrating trying to get far enough back to see the high damage and still reach where I needed to knock down. Then I learned about blending hammers and how they could solve that issue. After many years of learning the art of blending and experimenting with over 20 blending hammers, I've honed in on some favorites.
Most of the hammers available from Carbon Tech PDR Tools are well designed, but I personally love the Carbon Tech 21. It has a perfectly flat head on one end that dances beautifully on curved surfaces like rails. The other side has a pinpoint head that works exceptionally well on stubborn aluminum and flat panels. It's lightweight, so it doesn't fatigue you after using it all day on a hail car. As an added bonus, both tips are removable in case you want to change it up every once and awhile. I even use the pin point head for pushing sometimes. A small tech tip for this hammer would be to add some PPF or Tessa tape to the heads to give you an entirely different and effective blend.
We as dent techs are practically useless if we can't see where we're pushing. That's why I'll end my list with the most important tool: a solid hail light. For this, I can't recommend enough the Fatty Hail light from Elim-A-Dent tools. It's versatility is unmatched. You can adjust the lens depth, the fade and the brightness with the push of a button. You also have a choice of using 6 out of the 10 LED strips at one time, creating multiple combinations of warm and cool.
It's 2 feet wide and a little over 3 feet long and gives you more than enough coverage to see every last detail on a hail-damaged panel. It's bonkers how much real estate this light covers because of its sheer size. One final detail I love about this light is how stout the wiring is. The wiring is commercial grade quality and I have never seen such tough cords being used on a hail light. This light is meant to last.
I highly recommend teaming this light up with a Carbon Tech Never Loose mount. That mount gives you practically 360 degree maneuverability of your light. You don't have to struggle with getting the light in the perfect position; just move it to where you want it and it simply stays. It's wonderful!
Honorable Mentions
Great for hail damaged roofs, this tool is quick to set up and stays in place. It has very little play and a groove, so it doesn't turn on you if you're side-loading the tool. It's a stout rod with little to zero flex.
PDR Tool Time Technology Pick
Daniel says:
Mobile Tech RX is the the one tool that has transformed my company and makes me more money. In the first year with Mobile Tech RX, we increased our revenue by $94,000.00. How did software do this, you ask? You get a 30% increase just inputting accurate R&I times and another 25-50% increase on factors like body line or aluminum factors. We also notice that we don't get any haggling, because the estimate came from a computer not something we pulled out of a hat.
MTRX makes us look more professional than our competition. The best part is, the software just gets better and better as time goes on. We now use their text alerts to communicate with our customers and the calendar to schedule appointments. Both of these features cut down on customer no-shows. I just can't say enough good things about Mobile Tech RX. Get it today and level up your hail tools.